Casa Picayo
Old Havana
in spanish

Beautiful private house, accommodation available for rent: Quiet, pleasant cheap, and comfortable, with an outstanding view of Old Havana (habana Vieja).
In our particular house you will be able to learn and experience how a Cuban family is by being closer to our customs and daily life. This is an unique opportunity to see how we live in reality and understand things from another point of view. We will address all your questions about Old Havana and Cuba.
The beautiful architecture of the Capitol, Church of the Plaza del Cristo, and the beautiful, lively and incomparable Plaza del Cristo itself can be seen from the balcony of our accommodation leading out over the street below.
The house has two spacious bedrooms, each with both a double and a single bed, as well as air conditioning, fan, and a private bathroom with full running hot and cold water.
The Particular House, accommodation is situated in the heart of Old Havana, just 2 minutes away from the Capitol, the Parque Central, Hemingway's favourite restaurant the "Floridita", and no more than 10 minutes away from the Cathedral, the restaurant "Bodeguita del Medio", the president's official residence at the Palace of the Revolution, the Museum of Fine Arts (Museo Bellas Artes), Chinese Town, and the other magnificent colonial buildings, museums, and gems of Old Havana.
The price of our accommodation is : 25-30 cuc per room.
To make a Reservation in our cheap accommodation:
e-mail: stay@oldhavanahome.com
Phone: 53-5 8414161
"Do not miss an opportunity to spent a wonderful time in our Particular House, accommodation in The Old Havana"
Capitol of Cuba, Old Havana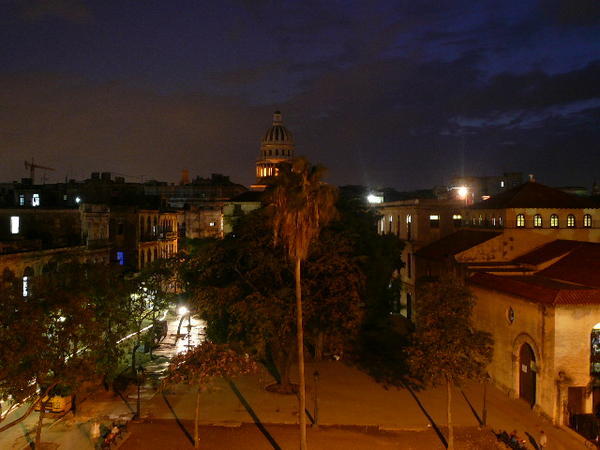 View from the balcony of The Particular House,